See what's new in TrustCloud
Our team has been hard at work creating updates and new features just for you, see what we've been up to over the last month.
TrustCloud
Coming soon TrustCloud's New Platform Experience
Get ready for a new and improved homepage that gives you a high-level snapshot of your compliance program, risks, employee compliance, automation status, and audit preparedness—all without toggling between apps. See a sneak peek.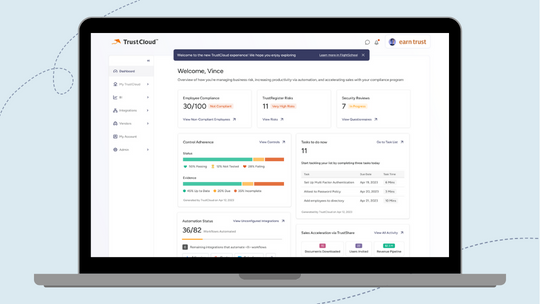 Coming soon Ask questions, get answers in TrustCloud Forums
We created FlightSchool to help you learn about our products, GRC, and trust. Now, you can join the conversation with FlightSchool Forums! Ask questions, share your best tips and tricks, and connect with community members. Stay tuned!
TrustOps: Build and Manage your Compliance Program
Enhanced Test Reports that will delight the most detailed auditor
In one simple report, you can share the details behind your automated tests. See the test purpose, timing, results, and even the commands and queries used to conduct the test. Learn more.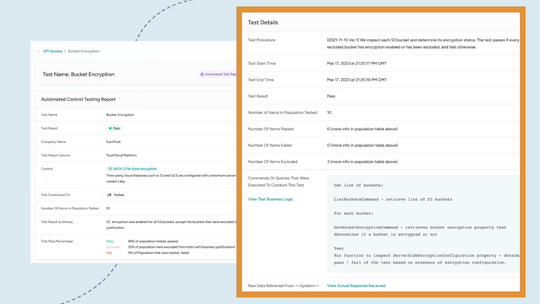 See the connection between your controls and risks
Risks and controls are two sides of the same coin. Control Risk Mapping helps you quickly understand the risks associated with your controls so you can take action fast. Learn more.
Coming soon Simplify document revisions with the Document Repository
Tired of updating the same document across multiple controls? Now you can upload your commonly used documents to the repository, link to their associated controls, and easily make bulk updates when it's time to add a new version. Stay tuned.
Coming soon Slack Workflow Integration
Staying on top of tasks has never been easier! With our upcoming integration, your team can receive (and complete) work directly in Slack. Join the waitlist to be the first to use this upcoming feature.
Coming soon Advanced Scoping for Audits
Complying with multiple standards each with its own subtle differences is hard! Our upcoming advanced scoping feature will allow you to define a custom audit scope so you can determine which system, policy, or control is 'in scope' for your upcoming audit. Stay tuned.
TrustRegister: Predict and Manage Risks
No risk owner, no mitigation
Without a risk owner, mitigation is impossible—that's why it's crucial to make risk management a team sport. In TrustRegister, you can assign ownership in less than 4 clicks. Learn more.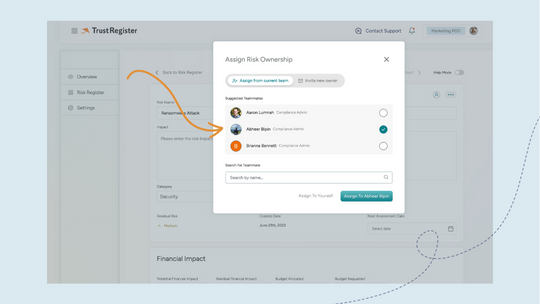 Adapt risk management as you scale with Custom Categories and Subcategories
As your business grows, so do your risks. Now, you can adapt your program by creating custom risk categories and subcategories to conduct risk assessments based on your unique needs. Learn More.
Coming soon report on the business impact of risks
When your executives ask, "What's the impact of this risk and how much budget do you need?" you'll have all the answers. TrustRegister's upcoming reporting features will help you easily communicate exactly what could be at stake, making budget requests (almost) guaranteed. Stay tuned.
TrustShare: Pass Security Reviews and Answer Questionnaires
Let customers dive into the details with Standards Mappings
Let your customers see how you meet standards and learn more about your program without needing to send a security questionnaire. Learn more.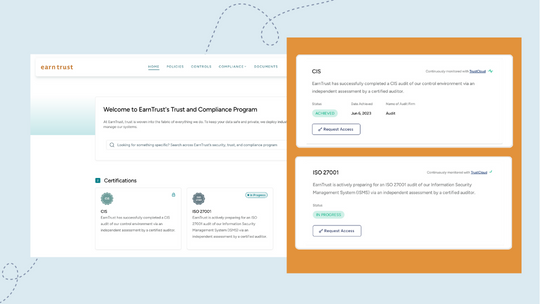 Avoid follow-ups with improved organization and search
Have you noticed TrustShare's summer glow-up? TrustShare's new look and search capabilities make it even easier for your customers and stakeholders to find information on your policies, certifications, and documents. See it for yourself!
Access TrustShare data anywhere with our new Chrome Extension
Tired of being stuck answering questionnaires in a portal? Now, you can answer questionnaires anywhere! Search for questions or keywords directly in Chrome and get accurate answers fast. Learn more.
Coming soon TrustShare Business Intelligence
See what documents are most downloaded, track your turnaround time on questionnaires, showcase your impact on revenue… Stay tuned.